Arundel Brewery 'Meet the Brewer' Dinner, 29 August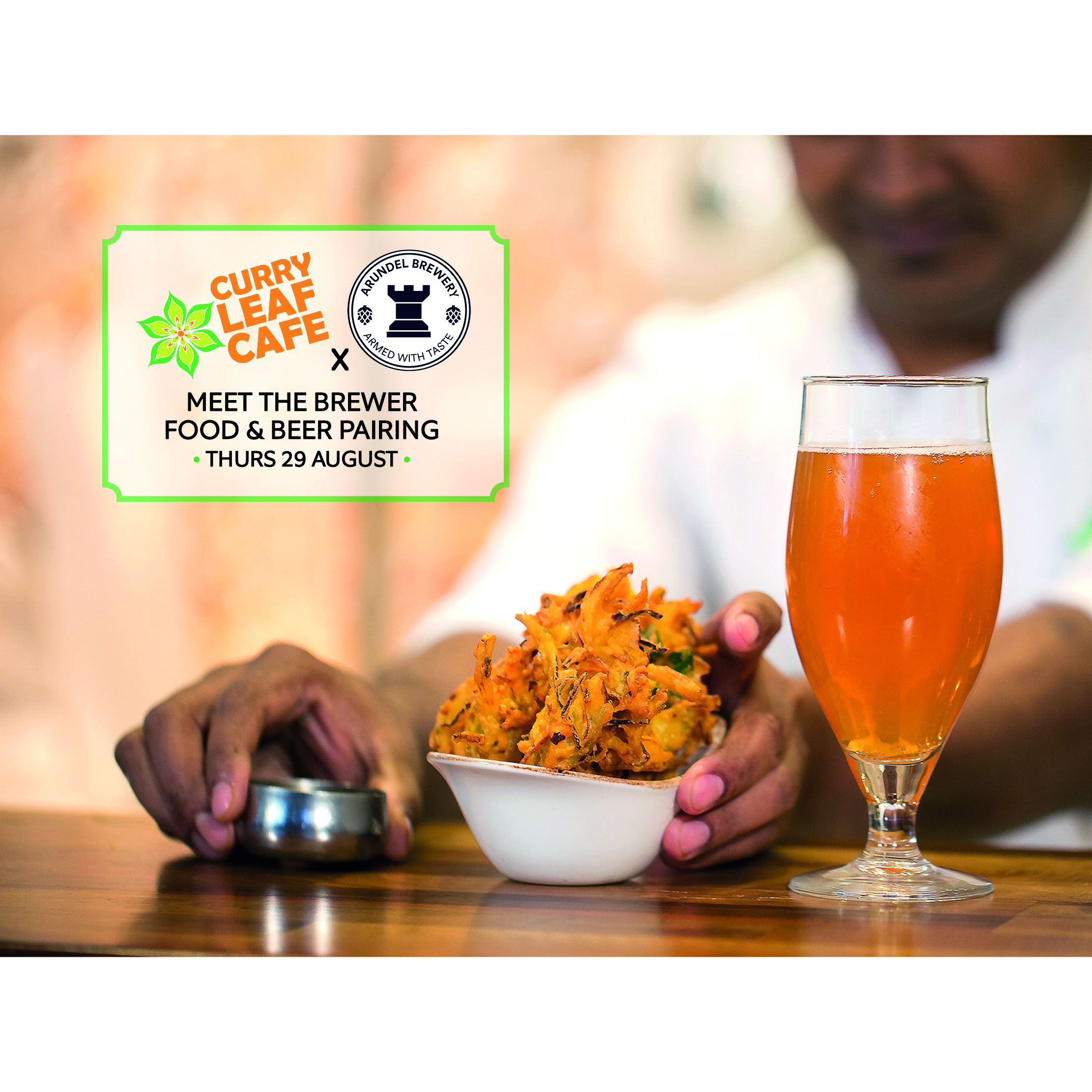 Arundel Brewery 'Meet the Brewer' Dinner, 29 August
Price includes 2 x TICKETS @ £35 each
INDIAN STREET FOOD & CRAFT BEER
PAIRING EVENT
Thursday 29th August @ 7pm
Curry Leaf Cafe, 60 Ship Street, Brighton BN1 1AE

FOUR COURSES
Paired with schooners of Arundel Brewery beer
+ Talk by brewer Olly Parsons
TICKETS £35 each (sold in pairs)

• NIBBLE PLATTER •
'Lucky Swallow' Lager

• STREET FOOD PLATTER •
'Tarrant Street' Table Beer

• TRIO OF CURRIES + RICE & NAAN •
'Battle of the Oats' Oat Cream IPA + 'Uptown' NEIPA

• THALI DESSERT PLATTER •
Maple Stout
(NB: Food served on sharing platters for 2)
(Vegan options available)
To celebrate the Brighton & Hove Beer Week we have teamed up with local legends Arundel Brewery.
Join us for a four-course meal of Indian street food paired with schooners of Arundel Beer chosen specifically to match the food. Lead Brewer Olly Parsons will also host a talk during the dinner, and answer everything you've wanted to know about beer and the brewing process.
All four taps at our Lanes Cafe will be dedicated to showcasing the best of Arundel's range for the duration of Brighton Beer Week, alongside several other of their beers in cans.

About Olly Parsons, Lead Brewer @ Arundel Brewery
Lead brewer Olly Parsons started brewing in 2015 after discovering the joy of craft beer through his brother-in-law and their many trips to Brewdog bars across the country. Experiments with a 5-litre home brew kit led him to ask for work experience at Arundel Brewery, which soon evolved into the role of assistant brewer and finally lead brewer (with colleague Matt). Since then he's helped Arundel create their award-winning 'modern' range of beers, including the Maple stout, Dragonfly DIPA, Clockwork NEIPA beers and their just-launched 'Battle of The Oats' collaboration with Abyss Brewery.